Learn more about your clients
Gain a deeper understanding of each client by seeing their full financial picture across your various Xero instances as well as other specialist software, including financial planning, lending, SMSF and more.
Drive new business
Xeppo can push data from Xero and other software to sales and marketing CRMs or analytics tools, enabling you to better manage client relationships and develop business.
It's easy to register
Signing up for Xeppo and connecting to Xero is as simple as the standard Xero registration process. Xeppo will then automatically import all Xero data, ready for you to leverage.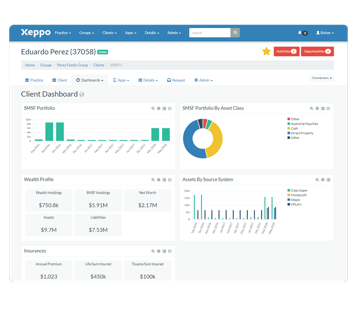 +
About Xeppo
Xeppo is a world-first tool for financial advisors, business advisors and accountants. Xeppo provides a complete view of all of a client's moving financial parts in a single dashboard, even if they are stored in separate specialist systems, enabling advisors to build stronger client relationships and drive business growth.
Have a look at our Prices – learn more about Xeppo today.
About Xero
Xeppo is a world-first tool for financial advisors, business advisors and Xero is world-leading online accounting software built for small business.
Get a real-time view of your cash flow. Log in anytime, anywhere on your Mac, PC, tablet or phone to get a real-time view of your cash flow. It's small business accounting software that's simple, smart and occasionally magical.
Run your business on the go. Use our mobile app to reconcile, send invoices, or create expense claims – from anywhere.
Get paid faster with online invoicing. Send online invoices to your customers – and get updated when they're opened.
Reconcile in seconds. Xero imports and categorises your latest bank transactions. Just click ok to reconcile.
How to connect Xeppo + Xero
To connect your practice's Xero instance:
1. From Admin, click on 'Connectors page'.
2. Click on the 'Create Connector' button for Xero (Practice).
To connect to your client instances, you will need to request Xeppo set up your Xero Client Connector, and then follow this guide to start connecting.
Xeppo syncs data from Xero nightly. The Xeppo system has auto-matching and auto-grouping capabilities, meaning the system will look to automatically link client records, group (relationship) data and other information.
Xeppo auto-matches on average 70 to 85 per cent of all data processed by Xeppo, creating efficiencies that save you time and money.
For your practice, Xeppo pulls the following data from Xero:
Contacts (clients)
Addresses
Contact Details
Invoices
For your clients, Xeppo brings in:
Client information (address and contact details)
Income and expenses
Profit and loss
Accounts
Assets and liabilities
Balance sheet