Process Automation
Make giant leaps across business productivity.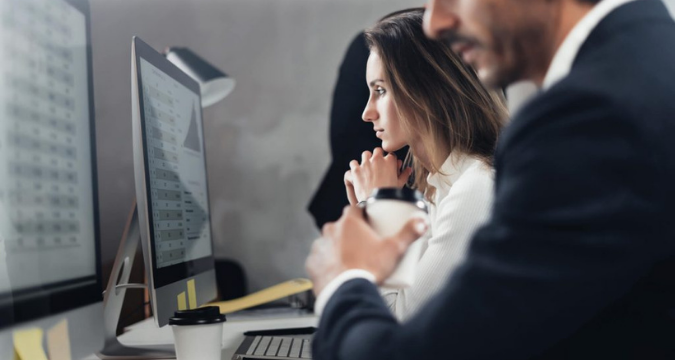 Automate menial business activities to supercharge your efficiency
Save your practice countless hours by automating daily admin tasks and processes, freeing up time to concentrate on high-value services.
Liberate yourself from workflow and to-do weekly woes. Access our library of coded document and email templates to accelerate efficiency gains within divisions and across your entire practice.
Pre-Built templates
Not sure where to start with your process automation?  Save time to get your business up and running with these ready-to-go coded templates.
Take advantage of Xeppo's sample library of coded templates that has been purpose-built for Financial Planning and Accounting practices. 

Templates are customisable to suit your practice and how you operate

Simplify time-consuming and complex processes. Access advanced coding capabilities without investing in external tech talent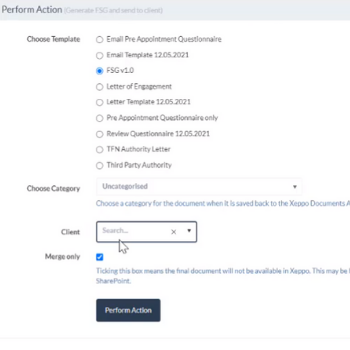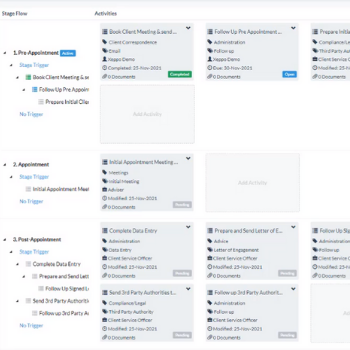 Designate roles
Ensure practice-wide visibility for an interrupted client experience
Set participants and roles to easily identify who's responsible for every activity – ensure clients are on track

Gain team-wide visibility to see who is responsible for activities in motion within a process – build team morale by celebrating wins!

Is one of your staff on leave or away sick? Pick up on their client processes to continue the journey without skipping a beat
Automate triggers
Triggers are super quick and easy to setup and initiate workflows in your processes
Kick-off a new process workflow with triggers in place to save you time

Create a new activity with triggers that can be customised based on the outcome of the activity

Trigger client emails to automatically generate, this makes sending general information to clients fast and consistent – practice-wide

Automatically generate documents when a trigger is actioned to save you file digging to edit and send in no time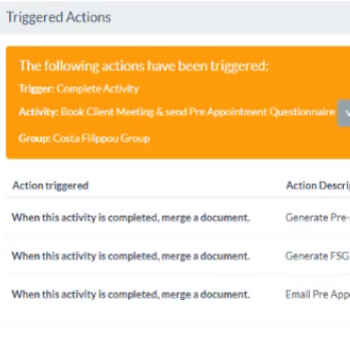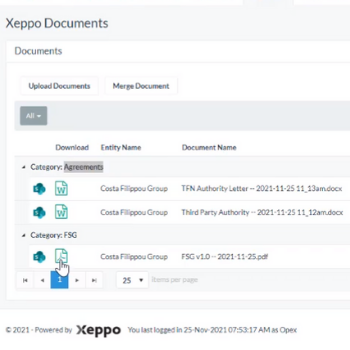 Integrate with Document Automation
Imagine being able to generate coded documents and store in SharePoint automatically with just a few clicks! 
Enjoy an uninterrupted workflow with the ability to send your coded documents to clients for eSignature collection without snail mail

Automatically file signed client documents with Xeppo's smart storage solution with SharePoint 

Experience a seamless process and document automation journey that your team will love and is sure to impress your clients
Systemise your practice with Xeppo's Process Automation
Setup processes to automate repetitive tasks, and spend more time doing what you do best!
Ready to elevate your practice with process automation?
We're real people with financial roots located in Adelaide, dedicated to helping you elevate your practice with a smarter process automation system.  
What our clients are saying
For a professional services firm to deliver on the client promise, information is key. If you don't have easily accessible, accurate information you are flying blind. For us it has been like a blindfold has been removed.
Aubrey Roga, Executive Director and Chief Executive Officer
Scholten Collins McKissock
Xeppo has allowed us to generate opportunities across our entire client database to increase the uptake of all services offered by the business.
Ian Bowrey, Chief Financial Officer
My Fortress
Xeppo was one of the biggest changes for us in terms of business efficiency and business profitability, with much better outcomes than our previous CRM system. This has been the most significant outcome for our business
Caitlin-Archard Farry, Operations Manager
Henderson Matusch
The main benefit of implementing Xeppo is understanding what's happening in our business so we can focus on the day-to-day. Now we've got a very good process to give us an overview to see what's on everyone's workload. We recommend Xeppo because it's quite flexible once you understand what it can do.
Mike Jeffs, Senior Adviser & Director
Strategic Wealth
I would recommend Xeppo because it is easy to use and keeps surprising you on how much it can do for your business. Xeppo is recognised as a steady and reliable system that is constantly developing and living up to the vision of achieving goals on their roadmap.
Jasmin Loke, National Compliance, Operations and AFSL Manager
Wealth Market
If you want to look to the future for a fully integrated tech stack that links in to all your other systems to manage your business more efficiently and effectively. You got to use Xeppo, it's as simple as that!
Graeme Hyland, General Manager
TWD
Book a free Xeppo demonstration
We'd love to help drive your business forward with Xeppo. For more information or to have your questions answered, fill in your details below